"The soul can split the sky in two and let the face of God shine through"
~Edna St. Vincent Millay
Biography of Our Founder:
Cathleen McFarlane Ross established the Foundation in 1997. From its establishment in 1997 to her death in 2010, she made significant annual donations to the Foundation. She supported many charities during her lifetime but focused primarily on homeless people, homeless animals and people afflicted with substance abuse and addiction problems.
As a result of her background in the theater, television and film, she also supported the Arts.  She made a substantial Founders gift to the Kravis Center. She also made regular annual donations to The Society of the Four Arts and to the George Bernard Shaw Festival in Niagara on the Lake in Canada where she and her husband maintained a home. Today, the Foundation focuses giving strictly to its mission.
"Making a difference in the lives of those less fortunate, especially those suffering from homelessness and addiction"
In her will, proceeds from her former estate at 456 Worth Avenue were left to fund her Foundation. The Villa des Cygnes was sold in September 2011 and the proceeds made up the bulk of the Foundation assets.
Making a difference for those less fortunate, especially those suffering from homelessness and addiction, was Cathleen's mission in life, and in death she lives on.
Cathleen McFarlane Ross was larger than life; always the center of attention wherever she went. It did not matter whether she was enjoying dinner with the homeless at Christmas, or chairing a Palm Beach Society Ball, she was equally at home. She kept everyone entertained and happy as she regaled them with her tales of all the famous people she had met, whether political figures at White House dinners, or the stars of Hollywood and the leading actors on Broadway. She knew them all.
She had a photographic memory and could sing all the Broadway tunes, including the second verses. She could tell the most outrageous jokes, with perfect timing and in whatever dialect was required. She could recite poetry for hours at a time. Her favorite poet was Edna St. Vincent Millay and she recited many of her poems.
Cathleen Cox was born in Duluth, Minnesota, but her family soon moved to Missouri. She regarded Smithville as her hometown and family homestead. She was proud to have met President Truman with her father in the 1930's.
She was the youngest of nine children and was an aunt when she was born. Her nieces and nephews were, in some cases, older than she, which always made her age confusing. She kept her age a big secret and went to great lengths to be documented as ten years younger than she really was.
On leaving school in Kansas City at age seventeen, she joined the touring company of The Merry Widow for two years. She had parts in every soap opera and starred in many commercials. She had a part in the film "Midnight Cowboy" however, she joked that her biggest role was "auditions".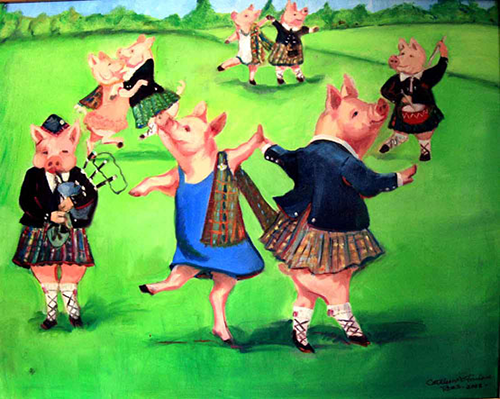 Cathleen was a wonderful interior decorator and the firm she founded in the sixties in New York City still exists today and is designing for the children and grandchildren of her original clients. She used her successful decorating career to sustain her acting career and at the same time, brought up and educated her daughter, Bridget Healey, at the best schools.
An excellent artist and painter, Cathleen created a whole series of pigs as politicians, male chauvinist pigs, trophy wives, and as Scottish Highland dancers. She could easily have been a commercially successful artist.
Cathleen was an outstandingly beautiful woman and was married four times. She captivated Washington when she was married to James Healey, a prominent Congressman from the Bronx. Healey was part of the Kennedy inner circle and Cathleen danced with John F. Kennedy at his Inaugural Ball.
In the early seventies, she met and married Norris McFarlane, an industrialist who owned major chrome production facilities in the United States and overseas. At their first meeting she asked him what he did and he told her he was a "metallurgist"- "that's great" she said, "I'm a gold digger!" Cathleen and her husband moved to Palm Beach in the seventies. She had thought they were old and rich, instead she found out, that by Palm Beach standards, they were young and poor. Norris McFarlane died in 1994 leaving her a widow for six years.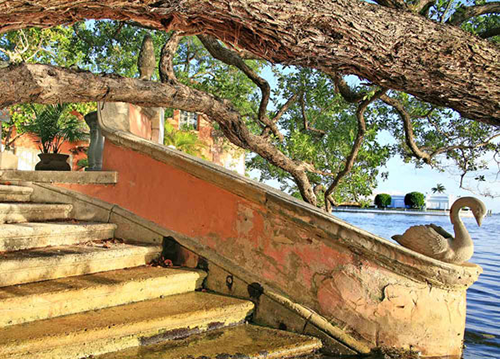 Cathleen first saw the Villa des Cygnes, a Mizner mansion, in the early 1980's. It was a wreck that had been abandoned for years and was in a dilapidated state. Cathleen saw its potential and bought it for a song. The drawing room sits into the water like a Venetian palazzo; it is the only house in Palm Beach with a room actually in the water. She acted as her own construction superintendent and daily, for six months, oversaw the restoration of the property. She loved this type of project and it occupied all her energies. She created a beautiful home and one of the most romantic places in Palm Beach.
When the project was complete, she threw herself into the charity circuit and chaired nearly all the Palm Beach Balls, some of them three times. She was a fearless fundraiser and devoted her time and energy to her favorite causes. She was a principal Founder of the Lord's Place and for three years drove a truck to migrant camps delivering food in the Belle Glade area. She was also extremely active on the feral cats issue in Palm Beach and had many spats with the Town Council in support of the Island Cats Feeding Program.
Then one day in April 2000, she got a call from Houston, Texas, from her Scotsman, Walter Ross; "what kind of accent is that?" Walter had been given her telephone number by mutual friends. After a few hours on the telephone, Walter flew to meet her in Palm Beach. They clicked, got engaged in London in May and married in September 2000. They had ten years of perfect happiness and fun.
She believed passionately that she had a responsibility to help the less fortunate and give them a leg up in life. As a result, she started the R Cathleen Cox McFarlane Charitable Trust in 1997, and donated generously over the succeeding years.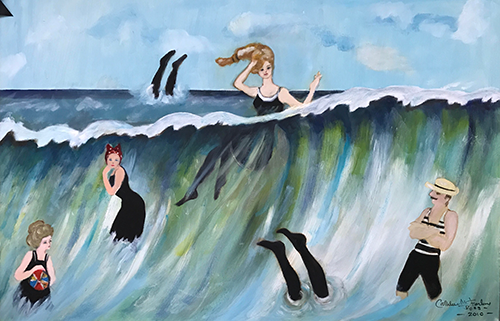 At a meeting with Sister Oliver and Sister Carleen, of St. Ann Church, in her garden, Cathleen conceived of St. Ann Place, a hygiene center for the homeless. It would provide laundry and shower services as well as meals. Soon she had raised the funds required just by writing letters to her friends- no events, no fundraisers, just by her charm and connections.
When Cathleen was involved in a project, people knew it was meritorious and well- known society figures wrote sizable checks to support the project. St. Ann Place has been a very successful venture delivering services to 150- 200 homeless people daily.
Just before her sudden and untimely death in February 2010, she spearheaded a campaign to raise money for Sacred Heart School in Lake Worth, which was in imminent danger of being closed for lack of funds.  The campaign was successful and the school continues with the Foundation's support for the Cathleen McFarlane Ross Learning Lab, which helps to teach twenty students with severe learning disabilities.
Cathleen spent about thirty hours a week at her desk writing letters, telephoning, and raising money for her charitable projects. She was tireless and was engaged in raising funds to help the homeless in Haiti when she suffered a massive brain hemorrhage and died suddenly on February 8th, 2010. More than a thousand people attended the funeral of "Kate the Great" as a testament to her life works.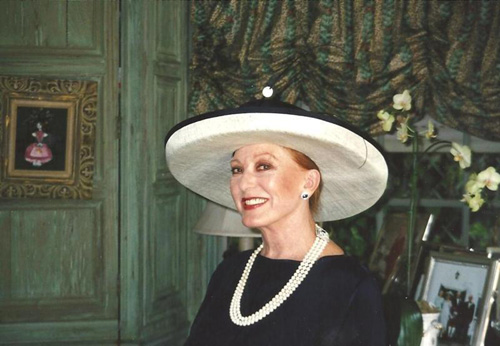 In her will, she left her beautiful Addison Mizner "Villa des Cygnes" located at the bottom of Worth Avenue in Palm Beach to her Foundation. Its sale has been the Foundation's principal funding source. Much the same as in her lifetime, Cathleen's good works continue on in perpetuity, thanks to the Foundation she created and the woman that she was.
Cathleen McFarlane was a beautiful lady inside and out. She was well known for her fabulous hats, which she constantly wore.  She was a very unique person with great drive, personality and warmth always helping everybody with their troubles. She is survived by her daughter, Bridget Healey, who carries on her mother's efforts to help those in need by serving on the Board of her mother's Foundation.